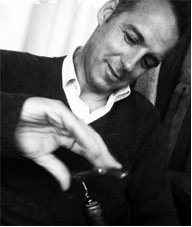 I have always thought that there's something fundamentally wrong with a sommelier uncorking a bottle of premium wine with a cheap waiter's friend. In some small way, it just seems to undermine what would otherwise be an exceptional dining experience. This small niggling thought has led me on a 12-year journey to design, refine and manufacture what is arguably the most artistically engineered, user-friendly, durable and reliable wine knife purely dedicated to both wine service and serious wine connoisseurs.
The word 'Code' refers to dress-code, and the number 38 was my age when I finally arrived at the final design concept for Code38. A professional wine knife that was both elegant and intuitive to use and had a longer shelf life than the most lovingly cellared cab sauv. Achieving this, however, has been no mean feat. I travelled the world searching for the best wine knives, read books dedicated to the humble corkscrew and engaged in all manner of conversations (including the great closure debate) with wine enthusiasts, restauranteurs and sommeliers across the globe.
In the beginning, I commissioned various industrial design firms to translate my vision into a reality. But the resulting designs typically resembled the mass-produced waiter's friend. It hit me while riding my trusty BMW to Cape York. I was a trained aircraft instrumentation engineer and successfully designed and manufactured premium medical treatment tables used by Australian Olympic athletes. I would design the wine knife myself. It started with a few sketchy lines on a serviette but quickly developed into a working prototype that was tested and embraced by some of Australia's most renowned sommeliers and restaurateurs.
When it came to manufacturing, traditional processes, such as pressing and casting, would not do justice to the design. So after researching the options, I discovered the slightly obscure process of metal injection moulding (MIM), generally reserved for Swiss watch, aerospace and prestige car component manufacturers. This process promised to deliver exceptional part detail and component accuracy.
The next few years were a blur of negotiations and redesigns, but the final outcome was sensational. It was picked up very early by Eric Asimov of the New York Times in a two-page feature article (link to article) which catapulted the product and brand onto the world stage. Despite its high entry price, the Code38 has become the choice for those working in professional wine service.
Owners of the Code38 are in great company, with many of the world's elite wine professionals claiming the Code38 as their primary tool of choice. Find out first-hand what is being said about the Code38 by reading their interviews in our Secret Wine Files, which give a wonderful insight into the world of wine and wine service through the eyes of some very talented individuals, including holders of US Best Sommelier Alex LaPratt and 2013 Best European Sommelier Arvid Rosengren.
As each Code38 is hand-finished by me and carries a lifetime guarantee, the Code38 professional wine knife is gaining great status as an investment for life.