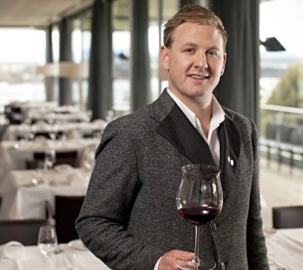 Lovers of art, food and wine would argue that he has one of the best jobs around. Joseph Burton is sommelier and manager of the Source restaurant at Tasmania's MONA (Museum of Old and New Art), the largest privately-funded museum in the country. Located, moreover, within a winery – the Moorilla on the Berriedale peninsular – it is considered the most exciting art gallery Australia has to offer.

Not only that, but Joseph's is a wine list of predominantly French labels under cork – so obviously his Code38 gets a regular work-out! With it he recently opened an impressive line-up: a 2010 Domaine Ponsot Clos de la Roche, an '82 Brane Cantenac, a '70 La Lagune, a '70 Grand Puy Lacoste and a '76 Climens – none quite as formidable for him, however, as the 1970 Haut Brion. "Just the opportunity to taste and serve a first growth at 43 years of age, from a decent vintage", he explains. "It's getting a lot rarer to be able to see these wines."

Joseph has strongly francophiliac tendencies as far as wine is concerned. He loves old Bordeaux and is "being fascinated by the way different vintages of Burgundy develop." He is especially loving Chenin from the Loire at present – "particularly the Baumard Quarts de Chaune" as well as the Vouvray and Montlouis from Chidaine. Favourite regions include Champagne and Burgundy – although he does throw in the Mornington Peninsular as well as Bierzo in Spain. His true loves are, however, Riesling (currently the 2011 Donnhoff Oberhauser Leistenberg Riesling Kabinett, Nahe), Pinot Noir and "good artisanal Champagne".

His most memorable wine experience was opening and serving a 1961 Chateau Latour Imperial. "You're struck", he says, "with the feeling that very few people have performed this task. And yes, it was pretty good too..."

As for the wine he would like other Code38 members to try, it turns out that it's not that easy to find – unless, that is, you are prepared to head to his restaurant in Hobart! It's the Dageneau wine Les Jardines de Babylone Jurancon and, according to Joseph, it is "simply exhilarating." (No food matches suggested: maybe this is one wine that does not bear being distracted by the banality of eating...)

What he loves most about his Code38 is that "it's function before form. It works on old corks and new." He also loves its sleek design and the weight of it; the fact it "makes you feel like it is a well-constructed piece."

Perhaps because it is?