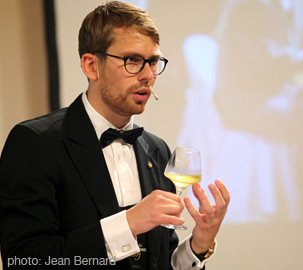 To listen, be humble and be passionate: according to Europe's current Best Sommelier, these are the three most important qualities a sommelier should possess.

Copenhagen-based Arvid Rosengren was recently endowed with the above title after winning the competition held every three years. While he tells me the win came as no surprise, it was certainly not what he had expected – despite having prepared for it for three years "with several thousand hours of study, blind-tasting and practical tests."

He has worked as a sommelier for six years – not only in Denmark but also Sweden and the UK. And yet he grew up in a family which served beer for dinner – and "perhaps once a week a good but cheap cooperative-made Navarra or Rioja". It was only when he started college that his palate was awakened and he started to drink "some decent stuff". Around about that time he got his first wine job in a retail store. "I eventually dropped out of my engineering studies to do that full time", he tells me. "After a year or so, I went the sommelier route instead."

Arvid is Wine Director for the Copenhagen Concepts Restaurant Group which owns eight restaurants, all in Denmark bar one in London. Despite his senior position he still works the floor. And shares a lovely experience which happened to him last year, when one of his regular customers at the Japanese restaurant Umami requested a bottle of Romanée-Conti. "I had none in the cellar though", he says. "So I took my rusty old bike down to another one of our restaurants … and grabbed a bottle of the 1999. So there I was, in full sommelier suit, biking at dangerous speed down the streets of Copenhagen… grabbing one of the most precious bottles in the world by the neck!" He adds that it was one of the better ones he had had…

I want to know what wine variety he is loving at the moment. "There are so many", Arvid replies. "The usual suspects like Riesling, Chardonnay and Pinot Noir of course. But also more recent discoveries like Godello, Assyrtiko and dry Furmint." Recently returned from Australia he speaks admiringly of the quality of our Pinot Noirs currently being produced.

It turns out that the wine-knife he used in the finals of the European Best Sommelier competition was his Code38. It has, he says, been with him for a while and "seen some good ones!" The memory of employing it in those finals to decant then serve on stage a magnum of Barolo has remained with him. "Everything (about the Code38) is made with uncompromising attention to detail", he says, "and the design keeps improving as well. It is a very durable piece of equipment, made for high-frequency use. Every other opener I've had, even very expensive ones, start falling apart after a year or so."
I am keen to know what wine – and food match – he would recommend to other Code38 owners. "One of my favourites at the moment", he replies, "is the 2011 As Sortes from Rafael Palacios in Valdeorras, Galicia, Spain. This Godello-based wine is so intensely powerful and mineral that it is at least an intellectual equal to a great Chevalier-Montrachet. And in a world where Burgundy prices are spiralling out of hand, this is a true bargain. It needs time to age and settle, but can be enjoyed by acid freaks right now too." Arvid suggests accompanying it with a "fairly high-octane" fish course such as wood-coal grilled turbot with baby squid risotto "and just freshly squeezed lemon to match the acidity of the wine." (My mouth waters…)

Back to those key attributes every good sommelier should have, from a world expert. "You need to listen to your guests, and not put yourself or your palate in the forefront", Arvid says. "Passion is important to convey the experience, and also not to stagnate, knowledge- or taste-wise." There you have it!
Visit www.arvidrosengren.com for more very interesting reading.