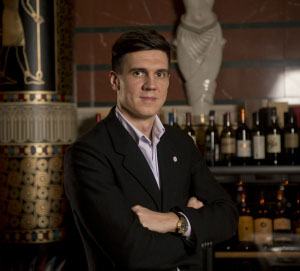 It's thanks to Grigoriy that Code38 has found its way to Russia – indeed, this sommelier could well be the poster-boy for the changing face of hospitality, specifically with regard to wine and food – in that country.
Grigoriy's family owns a very beautiful and very elegant five-star luxury hotel in the southern Russian city of Krasnodor, where he is the sommelier. In addition to that, he runs his own wine-importing company called WineHall. Over the last three years, he tells us, there has been a rapid development in the culture of wine in Russia, a country more generally associated with the consumption of vodka. Grigoriy says that after 20 years of importing and drinking wines from the main wine-producing countries of the world there has been a shift, the economic crisis creating opportunities for Russian wine-growers and wine-makers. He says that wine knowledge is on the rise as is the rate of talented young chefs in the big cities.
Exciting times, then, for sommeliers in Russia. Grigoriy is also the first one to have passed the ASI Diploma exam, having studied at the Court of Master Sommeliers at the Advanced level.
So, what's his favourite tipple? As far as reds are concerned, it's the light and elegant ones from the Jura region of France – "from the northern part of Europe", he tells me, "or from the cold wine regions. I like Pinot Noir in different styles from different northern regions like Burgundy, Germany and Jura." Specifically he mentions as his passion the subtle wines from the Poulsard, Trousseau and Gamay grapes – although a little later says that his favourite reds are Romanee-St-Vivant 1979 D.R.C and Barolo Vignetto Rocchette 1995 Giovanni Accomasso.
Most memorably? It was Echezeaux Grand Cru 2000 by Emmanuel Rouget. "It's stunning and awesome Pinot Noir full of complexity and depth", he tells me. "The prodigy in every sip."
That would be the most exciting wine he recalls opening with his Code38, but in terms of memorable wine experiences Grigoriy refers to the tasting of great Burgundy Pinot Noirs: La Tache and Romanee-Conti face to face, the 2007 vintage.
As for whites, he favours Riesling. "Two monumental wines which I tasted from this grape", he says, "are Riesling G-Max 2011 from Keller and Riesling Schlehdorn 2011 from Peter Jakob-Kuhn."
The food-and-wine match which inspires this sommelier is Pinot Noir with steak tartare. He says that he likes soft and elegant wines paired with "raw meat like tartare in Piedmont style", the most interesting example being a Cotes du Jura Pinot Noir 2010 JF Ganevat with steak tartare made from Russian-bred Black Angus beef. "It was excellent experience", he says. "Clean fruit aromas with fresh acidity on the palate were supplemented (by) fresh tastes of raw meat."
Grigoriy's plan is to open the first wine bar in his city, the concept of wine bars rising in popularity throughout Russia; indeed, he says, "if you want to drink something interesting" in his country it's to a wine bar you should be heading.
He heard about Code38 through an oenologist friend who regularly judges wine and spirits competitions in London, and what he likes about his is "the ergonomic and material" of it. "The most interesting feature", he concludes, "is (the) opportunity to change everything in Code38 – from knife to screw."