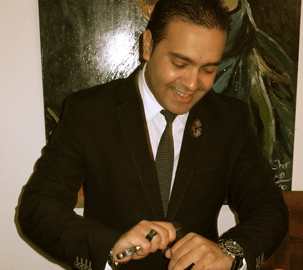 To Idan Yehuda, wine is bottled poetry. '"It's categorising your memories", says the Wine Department Manager of the Cramim Resort Spa in Israel, "and I want to tell you what your memories are going to be like."

Oh to be served by such a sommelier! Idan's workplace is a regional wine hotel and the first spa and wine hotel in Israel. He is passionate about Israeli wines and keen to spread the word about them. "All my wines", he tells me, "are from the Jerusalem area and are telling the story of this place. We are taking 'the terroir' to the level of wine tourism."

Mind you, he's fond of the odd French drop as well. His favourite wine region is Bordeaux ("I like the zeal tradition of this region") and his favourite reds either Cote d'Or Burgundies or "acidity reds like Cote de Nuits wines." But then there is Judan Hills in Israel, one of the oldest wine regions in the world, rich in limestone, where new grape varieties are being discovered every year.

Where white wine is concerned he nominates as favourites both Riesling ("such an exciting grape") and dry Furmint. "I guess it just surprises me each time and reminds me of great moments in Budapest. People don't know much about Eastern European wines – too bad!" Although when I ask Idan of a memorable wine moment he thinks "it was a 2.5 euro Frascati and a rainy day in Tivoli Gardens." A romantic soul!

Idan just loves his Code38, most recently deploying it to uncork a Chateau Haut Brio 1982: he says it opened up "like a knife into butter." What he loves most about it are its good looks; the fact it is capable of opening endless bottles of wine every day ("I broke something like four wine corkscrews a year by opening around 70 bottles a day...Code38 feels like it is going to last forever") and finally for its status-symbol image. "Like your watch", he tells me, "people around pay attention to status symbols – Code38 is absolutely one of them."

The wine he recommends to other Code38 members is the Israeli Domaine du Castle Grand Vin. "Take any vintage, it will always be a surprise for someone who hasn't tried Israeli wines before. If you like New World-style go for Yatir Forest, that's a flagship wine in Israel." These wines, he says, can be found at the closest Jewish community store. "I really think that the Israeli wine industry isn't rated enough...If you haven't tried Israeli wines before you absolutely should!"