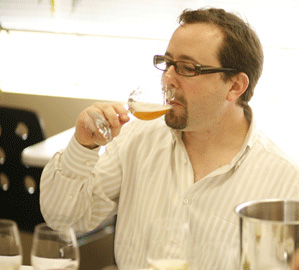 US-based sommelier and restaurateur Paul Einbund (named 'Best Sommelier in the Bay Area 2010′ by San Francisco Weekly) is hard-pressed to say which wine region is his favourite, given his love of variety. He does, however, begin his list with Rheingau, then Chambolle, Vouvray, Cornas, Madeira – before giving up!
It's much the same with his current favourite wine: not one but three get a mention. "The 06′s from Fourrier, 09′s from the Northern Rhone, and Champagne from Lassaigne", he tells me. This is a man who is excited about demystifying beverages "and crafting quality experiences for my guests", and who cites his memorable wine moment as being the one when he discovers a great wine at a stellar price. "Laura Aschero wines", he says, "are a great example of this."
And while a 1971 JJ Prum BA was the last wine he uncorked with his Code38, it was to be a 1971 Cheval Blanc, soon after speaking to me, he expected would be an exciting use to which to put the wine knife – purely "because it's my birth year and should be a great bottle of wine." A birthday, then!
Paul's a fan of Huet Vouvray or old Nikolaihof Riesling, when it comes to white wines – and currently, when it comes to reds, it's the 2006 Fourrier Gevrey AC. "It's the perfect wine right now", he tells me, "fruity and easy but as complex as you want to take the time to discover."
And yet the wines he would recommend to other Code38 members are those of Gonon, from St Joseph. Now, he says, is a great time to jump on these. "2009 is an awesome vintage, these great tasters are calling Chave in blind tastings! The wine pairs with everything. An article that Paul Mackay is about to publish goes further into this as he talks about a recent meal he had where the Gonon worked with every course! I'll focus on meats and stews for now, but I'm ageing some in my cellar and can't wait to see how they develop." Sadly, there hasn't been a great deal of the Gonon made so it's not an easy wine to access. US importers Jolivin, known for the outstanding quality of wines they bring in, are however one source.
Paul says that it took him a while to "really feel" his Code38 – "but now I do it's really a solid, well thought-out, easy-to-use tool. The knife works with me as opposed to most – that just don't, and the worm is plenty long."